FIRST SIGNS OF A CALLING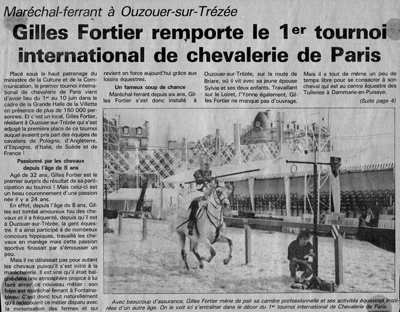 Trainer of show horses , director of creations, following his very own concepts, Gilles Fortier has staged the wildest fantasies whilst working with horses.
A young rider from the age of 6 years old , already reckless, he later began as a stuntman in different historical and cinematic re-enactments. He won the Grand Tournament of Chivalry at La Villette in 1987; as a prize he received a beautiful Friesian horse. Over time, the hobby became a profession in its own right, coupled with the career of a blacksmith.
As the years pass, the frenzied lifestyle of being a stuntman fades and gives way to wisdom. Consequently, dressage and equestrian art become a priority for Gilles Fortier.
HORSES AS ARTISTS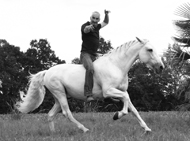 He really starts to break in his own horses with Jehann. An extraordinary horse, endowed with high intelligence, very loving and a great stage presence. Sadly Jehann left us too early in 2000.
Then came Aresio, a thoroughbred Andalusian, with which he has created a number of equestrian shows. There was a complicity between them which was hard to describe.
A total achievement of top-class equestrianism; from working with the reins attached to a belt, to performing without a saddle or bridle and only using facial gestures. And all the special effects (fire, fireworks, smoke ...) were mere child's play. A fantastic horse, a player, an icon. Currently retired as an anointed king.
Gradually, Rocio, Minero, Aristo, Verseto joined the team. Each working with their master in the same way. Each horse with its own story. Melting Gilles' heart, and taking chances with the challenge of making them fully-fledged artists. Horses are a long term undertaking, full-on and very time-consuming. Passion and love are the keys to success.
A harmony where the margin for error is not allowed and where satisfaction only stems from perfect performances. True artists, they are able to recognize music, to work with fire, smoke, moving lights and other visual effects. A unique relationship which originates from intense emotions on stage and is transmitted to the audience. This is the part of this unexplained magic.
FROM NORTH TO SOUTH, CREATION UPON CREATION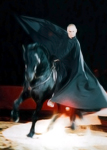 The story begins with the creation of his company; Zarkam, and presentation at the Night of Creations at Equestria in Tarbes in 1996, of "Razorback" a futuristic completely original piece, combining warriors, quad bikes and fireworks redolent of the cinema. Zarkam came back in 1998 and 1999 and fell in love with the area.
In 2000, Gilles decided to leave the Sologne area and moved to Tarbes with his family and horses. That same year, his first equestrian show was born in the citadel of the Louron valley which proved a rich and valuable experience despite the low audience turnout. The creations keep coming: The Dextre, Boga, Shaman which enchant the public.
In 2003, in addition to the entertainment business, he opened his riding school at Domaine d'Aubarède, 15 km from Tarbes. Never short of ideas, "Rencontre (Encounter)" was created in 2004. It was the first show of the Cabaret Equestre. There followed seven developing seasons and seven different shows, becoming in some ways a testing-ground for future creations.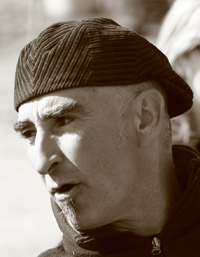 2011 was marked by "Vulcanalia," a two-hour show bringing together 25 artists in the heart of the arenas of Bayonne. An exciting challenge where Zarkam is established in South West France as a regular of the horse show circuit and triumphs in several renowned arenas of the region.
The show called 'MA ', created in 2009, would travel to London, to the 'Crinières d'Or' in Avignon for the second time, then to Morocco and also in Hanover in Germany.
Accompanied and supported by his son Thomas in recent years, 2015 saw the arrival of "Storm" added to the repertoire. An ode pure and sensory.
That same year he left Tarbes to live permanently in the Landes at the gates of the Basque Country.
STYLE AND CREATION PROCESS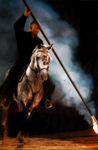 Gilles knew immediately how to stamp his mark. Shows of ancient techniques, mystical, animated by magic, in a mixture of distinct styles, from dance to theatre through to circus, fire, pyrotechnics and modern special effects.
He turns traditions upside-down, where the different facets of horsemanship are represented through a range of stunning visual images for the viewer, whether novice or connoisseur. The artist is, above all, looking for a single achievement: to awaken emotions.
A process of a precise and concrete creation, starting from a vague idea to distilling the very best. Like polishing a precious stone to reveal its beautiful secrets.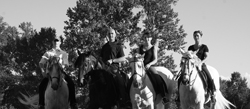 A FAMILY AFFAIR
For Gilles Fortier, artistic director of all these creations, it is a family affair : his wife Sylvie, daughters Megan and Virginie, and son Thomas are involved. Everyone rides and above all is passionate about horses. Each works in their own way and invests their energy, so that, at the end of the day, it is the horse who is the hero of this company.
A SINGULAR PERSONALITY
A few words sum up the personality of Gilles Fortier : sensitivity, artistic sense, precision in his work, and his feelings as a true horseman mark him a showman known everywhere for the diversity and originality of his creations.
CELEBRATION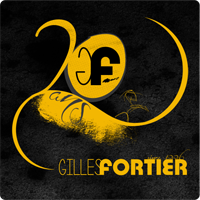 In 2016, Gilles celebrated his 20 years of career and what could be more beautiful as a gift to play his famous "Razorback" on the stage of the "Crinieres d'Or" in Avignon in January, it's this act that made it known 20 years ago...